HIGH END SYSTEMS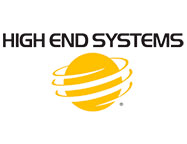 High End innovates and creates the lighting products and control systems that illuminate some of the world's biggest artists on the largest stages.
They attribute their success to staying in touch with the needs of our customers and community. Product research and development is an ongoing collaboration between in-house engineers and lighting professionals in the field and this collaboration is largely to thank for our status as a major industry innovator and intellectual property holder.
As members of the entertainment community, they know reliability is paramount. They maintain rigorous manufacturing standards while providing industry-leading customer support services.