About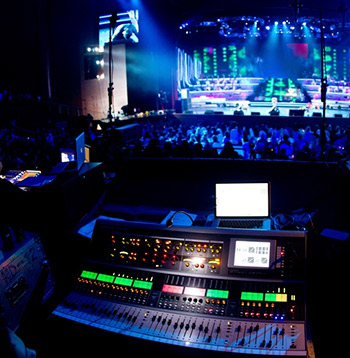 The company «ALT Sound +» was founded in 1999 by Gridnev Alexander and immediately proved itself in the market of services as a team of professionals of the highest level. The focus in its activity was on cooperation with the world's leading producers of sound, light and video equipment to provide the company's customers with the best quality and latest developments of the world industry in this field. Today ALT Sound + continue holding this high level.
Over the years, an inestimable experience has been gained, a large staff of highly professional technical specialists has been recruited and trained. This allows our company to carry out projects "on a turn-key basis"- from the moment of developing a sketch of arranging and fastening equipment on site to dismantling and technical support during the event. The availability of its own technical base allows replacing and repairing existing equipment, as well as increasing technical capacity by acquiring new modern equipment that meets the growing demands of customers for quality and technical capabilities of the equipment. The company's management pays great attention to all the latest developments in the industry, presented at international exhibitions of sound and lighting equipment, and also takes part in them directly.
ALT Sound + Company conducts events and carries out projects throughout the territory of Kazakhstan. For these purposes, the company has a fleet of vehicles, which allows transportation of equipment at any distance, regardless of its size and dimensions. Our technical specialists can fly to any city in Kazakhstan for full engineering and technical support.
Because of this approach to business and our business as a whole, we are trusted by such Kazakhstani companies as:
Administration of Culture and Archives of Almaty, TRK 31-channel, ADAM Media Group, Astana Group, Philip Morris Kazakhstan LLP, Love Radio, Retro FM, Kazakhstan Fashion Week, European Business Association, Consulate General of France in Almaty, Goethe Institut Almaty, JSC Atakent Exhibition Center," Energy Nation Entertainment group "," EVENT DISCOVERY "and many others.
А так же нами проведено множество концертов для звезд Российской и мировой эстрады, таких как :
Тимати, Emin, Наргиз Закирова, А'Студио, проект «Симфоническое КИНО» , John Newman и многие другие.
Video equipment
Звуковое оборудование — большой выбор акустических систем для проведения мероприятий любой сложности.
Световое оборудование —рисующие и заливные головы, статичные заливные приборы, световые пульты для любых райдеров.
Конструкции ферм – любого размера с возможностью возведения кубических конструкций.
Сценические и подиумные конструкции – любого размера по желанию Заказчика.
Layher конструктив – сценические конструкции, состоящие из кубов.
Бэк-лайн — для live концертов любой сложности и музыкальных команд (барабаны, комбо-усилители, клавишные инструменты, стойки).
Сценические эффекты - тяжелый дым, конфетти, серпантин, снег, огонь, лазер, мыльные пузыри , искрометы и пр.
Видео-оборудование–LED-экраны, LED-экраны outdoor , LED-сетки, LED-шторы.