GERMAN LIGHT PRODUCTS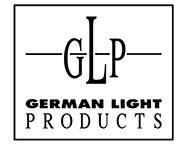 GLP (German Light Products GmbH) is a leading manufacturer of cutting-edge lighting technology equipment and remains at the forefront of LED technology.
The company's award-winning X4 series has become a standard around the world, specified by top LDs for its versatile and packed feature set. Constantly expanding its product range, GLP is committed to bringing environmentally friendly lighting technology to designers without expecting them to compromise in their artistic expectations.